Helen Solmes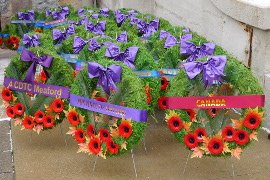 This year's Remembrance Day commemoration will be markedly different than in the past in Meaford, as it will be in most communities across Canada due to COVID-19, according to Steve Rice, president of the Royal Canadian legion Branch #32.
This year marks the 75th anniversary of the end of WWII. "Branch #32 gave a lot of thought to the task of continuing our tradition of paying homage to those who have given the ultimate sacrifice to maintain our way of life," Rice said in an open letter to Meaford residents (The Meaford Independent online, October 20). "For the first time, spectators will be discouraged from attending in person, due to the limited space and requirement to physical distance."
The pubic is encouraged to observe Remembrance Day in individual ways – by wearing a poppy, taking time on November 11 to reflect, and tuning into televised Remembrance Day services. Poppies boxes are in place in most retail outlets in Meaford.
"As a legion, we are going to conduct our service. We feel we must. It's what we strongly believe in," Rice said. "Wreaths will be pre-positioned by legionnaires. There will be a couple of flag bearers, but there will be no Canadian Armed Forces parade, no Cadets or Junior Rangers, no wreath bearers or assistants, and no comradeship at the arena."
Rice encourages the public to take two minutes on November 11 at 11 a.m. to reflect and pay homage. The national Remembrance Day service will be broadcast on major networks. The Owen Sound service will be broadcast on Rogers TV Channel 53, City of Owen Sound Facebook page, and 560 CFOS 560. L.E. Shore Library will live stream the Clarksburg, Town of Blue Mountain, and Ravenna Remembrance Day ceremonies on the Blue Mountains Public Library YouTube page and Town of The Blue Mountains website.
The Rotary Club of Meaford, in collaboration with the Legion and will be live streaming Meaford's ceremony on November 11th to the Rotary Club of Meaford Facebook page.
For more information, contact either Poppy Chairman Marty Riordan at 519-538-2809, President Steve Rice at 519-374-5289, Gassrice@hotmail.com or Meafordlegion32@yahoo.com