Staff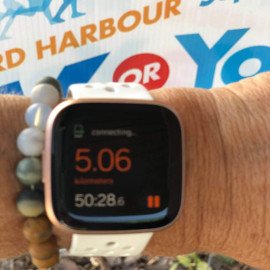 The Meaford 5km Run/Walk held its first virtual event '5k Your Way' from September 1 – 19, in which over 200 participants walked, ran, biked, hiked, paddle boarded, kayaked, and canoed (some even swam unintentionally), logging their time and experience as they went.
The efforts of these dedicated participants, top fundraisers, pledgers, and sponsors raised over $60,000 in support of mental health initiatives at our local hospitals.
The Harding Family team took top honours for team fundraising with a total of $4,309.23 raised. Abby Johnston enthusiastically raised $1,130 of their total going door to door. Some other teams included TCE Athletics, BVCS Washit, and Georgian Bay Coyotes. An individual participant, Danny Cann, also raised an outstanding $1,115.