Obituary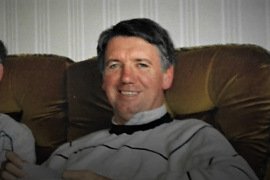 George Coote, 83, of Newmarket, Ontario, passed away on September 24, 2020.
George was born in Harrogate, UK, to Herbert and Mary Margaret on November 7, 1936. After finishing high school George went to serve his country by joining the Royal Air Force (RAF) in 1958, serving until 1961, primarily as an instrumentation technician, working on RAF helicopters. George married the love of his life, Mavis, in February 1958, who remained by his side until passing. George had a number of jobs after his military service in support of his now budding family as Mavis gave birth to his daughter Hilary in 1961 and his son Andrew in 1964.
As post-war Northern England offered minimal opportunities for a better life for his family George boarded a plane for Toronto in November 1968 in search of that better life. The skill set he acquired in the RAF and through on-the-job training in the UK ensured it wasn't long before he found a job and an apartment in Scarborough, and he made that happy call to the UK requesting his family join him in December of that year.
George joined the makers of the Cray supercomputer as a technician a few years later and would make service calls to institutions, whether commercial, educational and/or government, fixing large tape drives that were the storage method of the time. He moved onto sales once he had acquired his technical nuance, first selling third-party maintenance before moving on to high performance disc drives. His employer was acquired a few years after he had started selling storage solutions and his territory was all of Canada, ensuring he had to travel anywhere from 5-15 days of most months, all this after he had established an office to work from, brought on an engineer to diagnose and fix problems his clients had with the products he sold and an executive assistant to manage the office.
In the 1990s the Canadian sales office was closed and his position became redundant at which point he chose to retire.
George and Mavis acquired property on Pollard Drive in Meaford while he was still working and travelling. George and Mavis coordinated the clearing of the lot, the laying of the foundations and the purchase and installation of a pre-fabricated home in which they resided for nearly a quarter of a century, first as 'weekend warriors' and after in their retirement.
George enjoyed golf, hiking, and tennis, and engaged in all of those pursuits after and while travelling extensively with Mavis when initially retired. Even into his late 70s he would walk 2-3km in and around the beautiful neighbourhood they called home.
George is preceded in death by his sister Joan and brothers-in-law Arthur and Roy.
George is survived by his wife Mavis, daughter Hilary, son Andrew, grandchildren Sarah and Alex, great-grandchildren Audrey, Hannah, Jack, Ryan, and Luke. George also has two sisters, Mary and Margaret, and a brother Michael.
A service of remembrance and quiet reflection took place at the Roadhouse & Rose Funeral Home in Newmarket, ON, on September 28, 2020. Cremation has taken place and a private family interment of George's ashes in the Columbarium at Lakeview Cemetary will take place later this fall. Due to COVID restrictions we respectfully request the service remain a private family occasion to ensure everyone's safety and will therefore keep the date private. Thank you, sincerely, and with our gratitude, Mavis, Hilary, Barry, Lillian, and Andrew.