Helen Solmes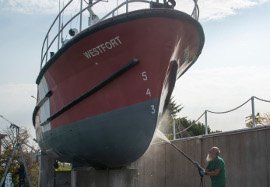 Each year since 2006, when Captain Bruce Sheppard guided the CCGC Westfort into the Meaford harbour and put the coast guard vessel on display, he and a loyal crew of volunteers have cleaned it and every third or fourth year given it a fresh coat of paint. Till last year.
Captain Sheppard is 93 years old, "the youngest of the crew," he said. "They've all died off. There is no one left." So, the Westfort went last year without its annual cleaning.
This year, a new and younger crew is stepping up to help. A crew of volunteers led by Vice-Commodore Tony Palujankas of the Reef Boat Club is cleaning and painting the boat's hull and nautical artifacts, and tending to the flower beds that are all part of the coast guard display adjacent to the harbour master's office.
CCGC Westfort was built in Georgetown, P.E.I., in 1973. It is 44.5 feet in length with a 12-foot beam. The boat was stationed in Thunder Bay until it was donated to the Municipality of Meaford in 2005 by the Ministry of Fisheries and Oceans. Its two engines were removed and it was towed from Parry Sound to Meaford in 2006.
Palujankas first raised the idea of stepping in and helping Captain Sheppard during the club's annual general meeting in 2019, according to the club's media chair, Liz Harris. "The club totally endorsed the idea. It's our way of honouring Captain Sheppard and his contribution to preserving marine heritage," she said.
"The Westfort is the only full-sized ship on display in Canada memorializing the service of Canadian coast guard vessels. It's the only coast guard vessel that has been salvaged, reclaimed, and looked after. It's huge piece of marine heritage.
"I think it is a terrific act of volunteerism that the Reef Boat Club is doing."
The club is waiting for the specialty paint required to paint the upper half of the hull. Weather permitting, the hull will be completed this fall. The municipality's harbour staff will paint the deck and railing in the spring. The club is in the process of outfitting a weather cam on the Westfort to monitor weather conditions and improve boating safety.