Rob Uhrig of the Meaford Chamber of Commerce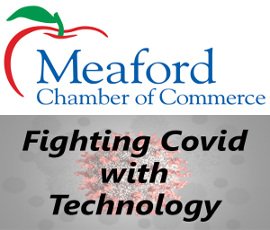 COVID-19 continues and it illustrates some of the benefits and shortcomings of living in a predominantly rural municipality. The sense of community, and the fact that we know and respect many of our neighbours are hopefully factors in explaining why we have managed to maintain so few cases in Meaford.
However, the impact is obviously far more reaching than just physical health issues. Schools, tourism, entertainment venues, restaurants and many businesses have been greatly affected by the pandemic, which brings me to something that binds them all, and possibly offers some solutions… technology!
Full disclosure, I work for a local internet provider so I am very aware of the impact that COVID has on rural and urban locations alike. We experienced a significant increase in speed and bandwidth requirements as early as February, as local residents started working and learning from home. Then we were inundated with people with secondary residences in the area that decided it would be safer to live, work, and have their children conduct online learning in this area. Thankfully, they were respectful in their approach and did not appear to have a negative impact on our region.
Moreover, this appears to be a long-term solution for a number of people. We would normally see many summer residents winding down and returning to their homes further afield but it appears a large number of these residents are choosing to stay in our area. I believe many people would be surprised to find out just how many of our neighbours are running businesses from their homes, engaging in satellite offices, and having their children take advantage of online learning platforms.
Of course, this can present potential advantages and disadvantages. On the plus side, hopefully, many area businesses will benefit as those remaining to stay put will continue to frequent our stores and restaurants. However, area schools are reportedly seeing a spike in attendance and it remains to be seen what the long-term effect will be on local education systems if families choose to remain in smaller centres.
Reliable internet has long been a hot button topic for rural residents and it has only been exacerbated since COVID struck. We are fortunate to live in a beautiful area with hills and trees which is great for aesthetics, but not so great for wireless connectivity, which is what the majority of rural residents rely on. Wireless internet requires line of sight and not everyone has access due to the local topography. Fortunately, there are more options on the horizon that will hopefully address these demands in the future.
Our urban residents don't always fare much better with their internet service, as the existing infrastructure is old and has limited reach and capabilities. Many users are forced to rely on old DSL lines that in many cases are not capable of providing the speeds required by modern platforms.
On the plus side, many businesses have adapted where possible and are using technology to increase their online presence. This summer, the Municipality funded an eCommerce Assistance Program to assist existing commercial retail businesses. Administered by the Chamber of Commerce, it was designed to develop an eCommerce internet capability that would allow participants to sell products and take payments online.
No one knows how the pandemic will play out, and if there will be a significant second wave. More importantly, if there is a resurgence, no one knows whether all areas will be locked down, or just those that are designated as hot-spots. In the age of Big Box stores and Online Retailers, it has become more challenging for small local business to compete. Accordingly, we need to champion and support our area businesses where possible. The sad alternative is, there won't be many local businesses to support our local economy, attract tourists, and provide local jobs. So, whether you shop in person or online, please remember there are often local options available. Please shop local! Our community depends on it.