Obituary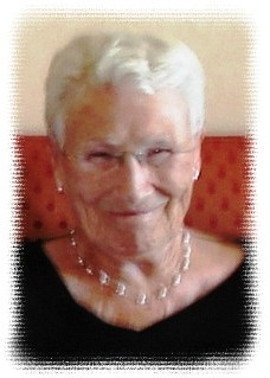 Mom passed away peacefully on September 23, 2020. She led a long and remarkable life. Born in Elderslie, Ontario, on February 19, 1922, a daughter of the late Warren and Marjorie (nee Calhoun) Sinclair. Mom attended school in Chesley and completed her teaching certificate at Toronto Normal School. At the tender age of 19 she accepted a teaching position at Minniehill School just outside of Meaford where she met and married Dad, starting a journey that would span almost eight decades. They marked their 75th wedding anniversary on September 1st of this year.
They were an amazing team and together built a successful life on the farm, over time amassing 300 beautiful acres of land. They were hardworking, adventurous in their own way, fiercely loyal, and loving. Above all, they were always in it together, sharing the load through good times and bad. Mom could milk a cow, drive a tractor, pluck a chicken, and bake the best apple pie ever, all while raising three children.
When her children reached their teens, Mom returned to teaching at White's School and then St. Vincent Euphrasia Elementary School. She was by all accounts a wonderful teacher, balancing genuine care for the education of her students with an appropriate level of discipline. Mom could put you in your place effectively with a single look. A skill no doubt honed during her earlier days teaching in country school houses where many of the students were almost her age.
Mom was an avid reader and always on top of current affairs. She loved a good debate, enjoyed a game of 'full contact' scrabble and played a decent round of golf. She was especially known for her putting skills. She curled, played Bridge, she loved cocktail parties with friends, and more than anything, long family dinners. As they approached retirement Mom caught the travel bug. She was the planner, Dad her cheerful companion. Together they travelled throughout Europe, Great Britain, Mexico, the United States, and the Caribbean.
Mom and Dad rarely spent a day apart from each other. Mom loved her family dearly and most of all, she loved Dad. Dad in turn loved her with all his heart. Mom was an extraordinary woman. We celebrate the full and exceptional life she led and we will miss her terribly.
Marian was the cherished wife of Keith Loucks of Meaford. She was the proud mother of Marilyn O'Brien of New Brunswick, Doug Loucks and wife Kathy of Toronto, and Donna McEwan and her husband Bill of Meaford. She was the kind and fun-loving grandmother of Katie, Claire, Victoria, Patti (Andrew), Michelle (Noah), and Matthew (Dee Dee), and great-grandmother of Atticus, Tessa, Campbell, Raelyn, and Quinn.
Marian will be missed dearly by her sister Ruby White (late Doug), her brother John Sinclair (late Marj); she was predeceased by her brothers Carl, Judson, and Bob, and will be remembered fondly by her many nieces, nephews, and their families.
There will be a private family graveside interment at Lakeview Cemetery in Meaford.
As your expression of sympathy, and in keeping with her love of reading and knowledge, donations to the Friends of the Meaford Library (cheques only please) would be appreciated and may be made through the Ferguson Funeral Home, 48 Boucher St. E., Meaford, ON, N4L 1B9, to whom arrangements have been entrusted. www.fergusonfuneralhomes.ca
'This was Mom's favourite time of year and she especially loved this poem by William Wilfred Campbell, a Canadian poet who at one time attended high school in Owen Sound. She could recite it by heart.'
Indian Summer
Along the line of smoky hills
The crimson forest stands,
And all the day the blue-jay calls
Throughout the autumn lands.
Now by the brook the maple leans
With all his glory spread,
And all the sumacs on the hills
Have turned their green to red.
Now by great marshes wrapt in mist,
Or past some river's mouth,
Throughout the long, still autumn day
Wild birds are flying south.