Sorche Paterson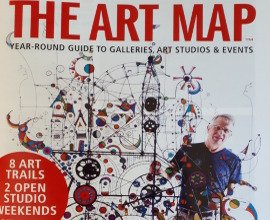 With the usual fall attractions cancelled – the many fall fairs across our county, the Scarecrow Invasion and parade, or the local craft show – all of us have the opportunity to do something we perhaps wouldn't have before, like visit some local artists in their native habitats.
This coming weekend, September 26 and 27, is the 10th annual Fall Open Studio Weekend. It's an opportunity to see into the homes and studios of some of your favourite local artists and support their work. The Art Map offers locations all over Grey-Bruce and Simcoe counties, but right here in Meaford are two locations listed on the tour. The Craig Gallery in downtown Meaford, and artist James Paterson on 7th Line, north of Highway 26.
The Craig Gallery is a family-owned and -operated gallery that features artists from around Ontario who work in the mediums of sculpture, photography, painting, pottery, and jewellery. This eclectic mix offers an opportunity for lovers of all art forms to see a collection of Canadian artists represented in an area full of natural light. They will be showcasing several new pieces that have arrived since August.
Settled on the shores of Georgian Bay, artist James Paterson whiles away his time constructing wire sculptures full of colour and joy. A full-time artist for over 30 years, he shows and is collected internationally. His wide-ranging style has evolved into a unique creation he calls 'Prayer Machines' or 'Play Machines'. From only a foot tall to over seven feet tall, these interactive machines are a wonder to behold, full of light and imagination which encourage the child in all of us to come out and play.
If you've ever wondered what an artist's house or studio is like, now is the time to get out and explore the hidden gems right within your own community.
Please note COVID restrictions will be in place at each site. Check out www.theartmap.com for up-to-date information, news posts, and maps.