Helen Solmes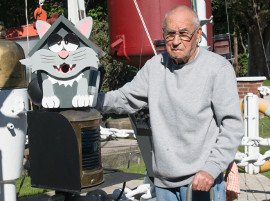 Meaford residents may know Bruce Shepperd best for his front yard display of nautical memorabilia from his 44-year career in the shipping industry. Of late, it's his woodworking skills that are drawing attention. The two may seem unrelated, yet they are intrinsically connected.
Captain Shepperd began his career as a deckhand with Algoma and worked his way up to the position of commodore. He honed his woodworking skills while anchored along the St. Lawrence Seaway, putting in time, as much as a week at a time, waiting for clearance.
Today, the shelves in Shepperd's workshop are lined with colourful birdhouses that loom over the delicate handcrafted models of each of the ships he served on during his career. Each birdhouse is cut from a template from the Winfield Collection, a set of woodworking patterns that Shepperd has been using for the past 40 years. They are then assembled, primed, and painted with durable outdoor paint, and topcoated with Tremclad Clear.
This year, Shepperd's granddaughter Sherry Murray and her husband Stephen have taken up the torch and have been designing and building their own whimsical birdhouses to hang on their fence on the corner of Aiken and Graham Streets. Their creations hang alongside several of Shepperd's. The birdhouses have drawn the attention of neighbours and passersby, particularly campers passing to and from Memorial Park.