Staff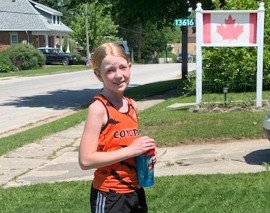 The Georgian Bay Coyotes did it in only ten weeks. As a team, they logged over 7,800 km to reach Victoria, BC, roughly 4-5 weeks ahead of schedule.
Ten weeks ago they virtually dipped their running shoes in the Atlantic Ocean off the shores of St. John's, Nfld. They then puddle-jumped across to Saint John, NB, in one week. After pit-stopping in Montreal the second week, they arrived in Meaford in three weeks.
They then ventured off towards Tobermory and onward to Thunder Bay, Winnipeg, Regina, Calgary, and then to Vancouver earlier last week. The Coyotes then completed their 7,608 km road trip by dipping their shoes again in water – this time the Pacific Ocean.
"Along the way we had several team members reach significant 'milestones', with some of our Grade 4 and under members hitting the 150km, some of our Grade 5-8 members reaching their 300km goal, and one high school member hitting the 500km standard," noted team coach Kevin Hooper.
The Coyotes will continue to train on their own through July and then take a well-deserved two week break. Training will then resume in mid-August, hopefully as a team, with possibly another trek planned for September.
For more information on the team, check their website at http://www.georgianbaycoyotes.com
Photo: On the Coyotes' trek across Canada, Grade 5 student Rimyelle Grady logged 306.5km to help her team mates reach Victoria, BC. By doing so, she earned the 300km Trans-Canada Distance Award for our Grade 5-8 members.