Staff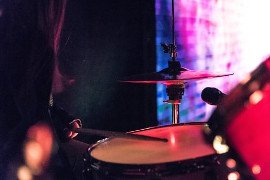 The Meaford Culture Foundation sponsored local musicians during COVID-19. They have donated $5,000 to the Live it Live series at Meaford Hall, and an additional $3,000 to the From Home Music Series presented by Chris Scerri Presents.
These programs focus on exciting and engaging live entertainment in a virtual streaming format that is fun and easy for viewers of all ages. Best of all, they showcase local Canadian artists from a variety of genres. Digital advertising is being provided by BruceGreySimcoe to expose these musicians to a broader audience.
Live it Live
The Live It Live series features a compelling line-up of musicians from Meaford, Tobermory, Toronto, Collingwood, and Fergus. Performers include Meaford's own Emma Wright, Jon Zaslow, and Chris Scerri. Enjoy a mix of folk music, country, rock, blues, and more.
Watch performances free of charge, by visiting www.meafordhall.ca.
The From Home Concert Series
Chris Scerri Presents is proud to bring the From Home Concert Series, an innovative virtual series focusing on artists from the local region of BruceGreySimcoe. With emphasis on the theme of connection, performers explore the topics of family, friends, and community. Performances can be viewed for free on YouTube. Check out https://chrisscerripresents.com/from-home-music-series for more information.
"Arts and culture are a significant contributor to the tourism industry in Meaford, and an important foundation of our local economy," said the Foundation. "Since its formation in 2006, the MCF has played a vital role in our community by enabling the presentation of and participation in unique arts and culture experiences that educate and enlighten, levelling the playing field for our local performers, and championing Meaford as a place to visit and live."
Learn more at www.meafordculture.ca.