Staff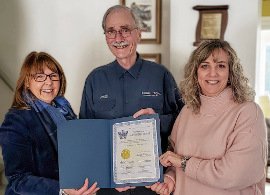 Meaford's council has recognized local business Homebuttons for ten years of service in the community.
Bill Monahan of Homebuttons Electronic Systems has been bringing technology into the homes of Meaford residents since 2010. He is a lifelong and hands-on learner who uses his skills with electronics to keep homes up to date with the latest technology to support your entertainment, safety, and security needs.
"Meaford's Manager of Strategic Initiatives, Janet Sperling, along with Deputy Mayor Shirley Keaveney and the rest of Meaford Council are pleased to congratulate Bill on providing ten years of excellent service to Meaford residents," said the municipality.
If you know a business that is celebrating an anniversary in 2020, let us know so we can celebrate their achievement! Fill out our form online at https://forms.meaford.ca/Recognition-Form