OPP Media Release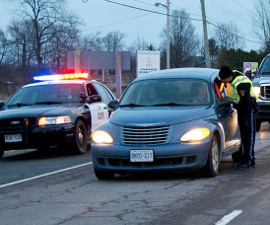 Grey Bruce Ontario Provincial Police (OPP) conducted 121 Reduce Impaired Drive Everywhere (RIDE) programs over approximately a five week period, including Christmas and the New Year season.
15 drivers were charged with criminal offences, including impaired operation, over 80 milligrams of alcohol or refusing to provide a breath sample. six drivers were served with a driver's licence suspension for registering a warning range on the Roadside Screening Device.
Between November 23rd, and January 2nd, west Region OPP members conducted 1,461 RIDE events. 156 drivers were charged with impaired driving, driving over 80 mg of alcohol per 100 mL of blood or refusal to provide a breath sample. 93 drivers were issued a warn-range suspension (3, 7 or 30 day suspensions).
In 2018 Grey Bruce OPP charged 77 drivers with impaired driving and in 2019, 140 drivers were charged. There has been an 81 percent increase in 2019 over the previous year.