Staff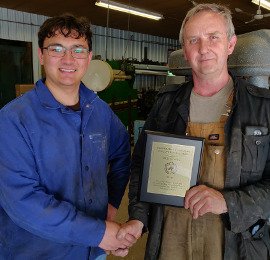 Georgian Bay Community School's Cooperative Education Department recognized Meaford's MCR Industries as its top student co-op placement for the 2018-19 school year.
MCR Industries, located on 7th line North in Meaford, is a manufacturing, fabricating and welding business that has consistently offered students an exceptional co-op education experience. Dennis Risk understands the importance of inspiring the next generation of tradesman and engineers and he has been a longtime supporter of the cooperative education program.
Co-op student Adrian Saidan has recently been accepted into the University of Waterloo's chemical engineering program, but he wanted hands on engineering and design experience.
"MCR Industries is a highly productive and learning-rich environment. It is a placement that commands hard work and respect, both for the employees and the machines, but it is so incredibly rewarding," says Saidan.
Co-op teacher Jeff Smith suggested Saidan work with Dennis and his team to gain practical knowledge of project design and fabrication. Smith describes Dennis as one of the most ingenious men he's met.
Picture: Adrian Saidan presenting co-op employer of the Year Award to Dennis Risk