Staff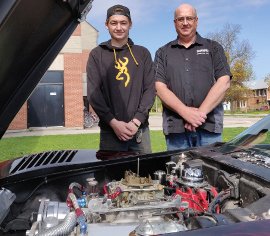 Georgian Bay Community School (GBCS) students are lining up to reap the rewards of a revamped technology department.
The school has recently received the Specialist High Skills Major (SHSM) designation for the construction field.
A Specialist High Skills Major lets students focus on a career path that matches their skills and interests while meeting the requirements of the Ontario Secondary School Diploma.
Students receive the advanced training SHSM red seal on their diploma when they complete a specific bundle of 8-10 courses in the construction field, complete two cooperative education credits, and receive valuable industry certifications including first aid and CPR.
Automotive and Manufacturing teachers Kent Harbinson and Owen Ferguson have brought their industry experience into the classroom and inspired a new generation of technology students. Their efforts were rewarded at the 15th annual Regional Technological Skills Challenge when Automotive Studies student Blain Reynolds placed first, Carpentry student Brady Mihalic also placed first, and Blair Mackey placed third in the welding division. From the regional competitions, the Bluewater District school board sends 25 student winners from nine different high schools to the provincial competition in Toronto. An impressive seven of those 25 students came from Georgian Bay Community School.
"Now's the time to get into the trades," said Harbinson. And according to new information released the by the Ontario Chamber of Commerce in their 'Taking Action on Skilled Trades' research report, he's right. Ontario will face a shortage of about 100,000 skilled trade workers in the manufacturing and building sectors over the next 15 years. That means that there will be more job opportunities than workers available.
Harbinson is enthusiastic about the future of the trades. He said, "On-the-job paid training, high employment rates, and well-paying careers are making parents realize that university is not the only option." With over 150 skilled trades in Ontario there's a career for every interest. For more information about the GBCS Technology program visit their website at: https://sites.google.com/view/gbcstech