Staff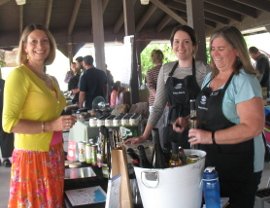 The Meaford Farmers' Market returns on June 7 for its 13th season. Whether it be beautifully handmade art and crafts, local, fresh, and great tasting fruits and vegetables, meats and fresh Georgian Bay fish, baking, preserves, or great take-out foods, there is something for everyone at the Meaford Farmers' Market.
In addition to being a showcase for local agriculture, the Meaford Farmers' Market has become an important part of the community, helping to maintain and build connections and community, supporting and kick-starting small, local businesses and strengthening the local economy.
"The Meaford Farmers' Market team is looking forward to the many delicious creations, featuring ingredients found at the Meaford Farmers' Market, that the Market Chef will create again this season," said organizers. "The Meaford Farmers' Market team is also looking forward to all of the amazing local musicians attending the market and blessing everyone with their beautiful music."
There will be several new vendors this year, including Thor Farms, offering a fabulous selection of cuts from their home-grown, grass-fed, barley-finished beef. Also back this year will be Howell's Fish, Rallis's olive oil, Grandma's Jamin' Jelly and al Sheayer Catering, along with many of your other favourite vendors.
The 2019 Meaford Farmers' Market runs from Friday, June 7 to October 11, from 3 to 7 p.m., off of Bridge St. at the beautiful Meaford Rotary Harbour Pavilion.
If you are interested in vending at the Meaford Farmers' Market, please download a copy of the 2019 Vendor Application Form from www.meafordfarmersmarket.ca and forward it to the Meaford Chamber of Commerce, or email to info@meafordfarmersmarket.ca. Also, if you are a musician or a community group/organization and would like to attend the Meaford Farmers' Market and/or if you have any questions, you can connect with the Market Manager at info@meafordfarmersmarket.ca.
Like and follow the Meaford Farmers' Market on Facebook to get up-to-date info about the happenings at the market.