Stephen Vance, Staff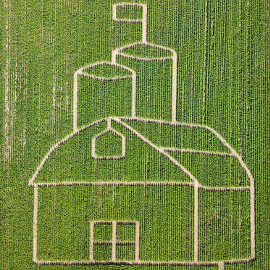 On Saturday, August 11, the Parkin Family Farm on Grey Road 11 in the Municipality of Meaford will host 'Fun Day at the Farm', a project of the Owen Sound Harvest For Hunger, with all proceeds going to the Canadian Foodgrains Bank.
This year is the fourth year for the event, which will include live music, horse and carriage rides, a corn maze, and even a 'farmer Olympics' competition. Also featured at the event will be antique tractors, a scavenger hunt, face painting, and a bouncy-cow. After an afternoon of fun, there will be a 'by donation' barbeque for those who work up an appetite.
Organizers say that in the first two years of the event, more than 800 people attended. Donations received at the event will be matched four to one by the federal government.
Additionally, as part of the Harvest for Hunger project, soybeans are being grown by four different farmers, and the proceeds of the sale of these will also go to the Foodgrains Bank.
"In our inaugural year, 2015, the Owen Sound Harvest for Hunger project started with a twelve acre field of soybeans and has grown to over 30 acres of crop. Most of the crop inputs have been covered by our agri-business sponsors and we sincerely thank them," said the organizers of the event. "With the proceeds from the crops, revenue from Fun Day at the Farm, our generous sponsors, and other donations, we have been able to send over $81,000 to Canadian Foodgrains Bank in our first three years. With your donation, we can help relieve world hunger as a community!"
According to their website, Owen Sound Harvest For Hunger "is a project of Owen Sound Alliance Church. Harvest For Hunger encompasses pooled resources, both human and financial, working collaboratively together in a Christian response to global hunger. A donation of just $150, when matched by the Government will feed a family of five for a year in sub-Saharan Africa. Supported by the Foodgrains Bank and the Government of Canada, Harvest For Hunger, together with its gracious supporters, aims to end hunger in 40 countries around the world."
The event takes place on Saturday, August 11 from 1 to 6 p.m., at the Parkin Family Farm, 457903 Grey Road 11 (east of Owen Sound, in the Municipality of Meaford).
For more information, visit their website owensoundharvestforhunger.ca, call 519-376-5996, or email them at owensoundharvestforhunger@gmail.com.