Staff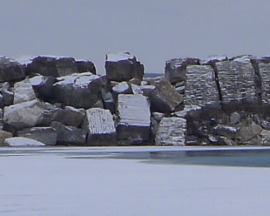 Last week, the Honourable Dominic LeBlanc, Minister of Fisheries and Oceans, appeared before the House of Commons Standing Committee on Fisheries and Oceans. Larry Miller, Member of Parliament for Bruce-Grey-Owen Sound and a permanent member of the committee, questioned the Minister on his department's inaction regarding funding for urgent repairs at the Meaford harbour.
On March 28th, 2018, Mr. Miller hand-delivered a letter to the Minister which outlined the situation at the Meaford harbour. The letter outlines an agreement between the Department of Fisheries and Oceans and the Municipality of Meaford that states that the Municipality would not be responsible for repair work of any kind.
On September 29th, 2017 a large storm surge caused significant damage to the break wall and the docks at the Meaford Harbour. The Municipality has obtained different quotes that reveal that costs for repairs range from $65,000 – $75,000. Officials in the department are now claiming that they will require the Municipality to cost share on a 50%-50% basis for all required work up to $80,000. Any costs above the $80,000 threshold would also be the Municipality's responsibility.
At the committee meeting, Miller called on the Minister to find a solution as soon as possible as any further damage or storm could jeopardize the integrity of the harbour. The Minister could only state that he and his department are "working on options".
"I was truly disheartened that the Minister could not or would not answer a simple yes or no question today at committee regarding the Meaford harbor," said Miller. "The Minister knew in advance that these questions were coming and he has had almost a month since I delivered the letter. This isn't a complex question. Is the department going to honour a signed agreement or no? By the sounds of the Minister's answers today it sounds like no."