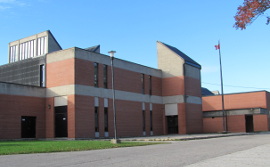 Less than three weeks prior to the long anticipated performance tour to Washington D.C., Georgian Bay Community School (GBCS) orchestra and jazz band students and parents learned that their music teacher, leader, and conductor, Patrick Delaney, would not be going on the tour, nor would GBCS staff Melanie Johns who, with Delaney, had been planning the tour since the beginning of the school year.
The tour cancellation policy does not allow cancellations for other than medical reasons or travel adversaries, and the tour will carry on, according to GBCS principal, Kathy Damsma, who fielded questions from parents and students during a meeting on April 19. More than 50 parents and students met to express their concerns and press the principal for an explanation as to why Delaney would not be accompanying the students on the tour.
The orchestra and jazz band are scheduled to perform twice during the five-day trip— on May 3rd at the Naval Heritage Centre in Washington, D.C., and on May 4 at the Beltsville Academy in Beltsville, Maryland. Who will conduct the GBCS students during the performances, Damsma did not know. She advised the students and parents that efforts were being made to recruit a conductor to lead the students during the two performances.
While parents and students pressed for an answer as to why Delaney and Johns had withdrawn from the tour, Damsma's reply was: "I cant' answer that. Ms Johns has remove herself from the tour. Mr. Delaney has personal reasons that we have to respect."
School Trustee Fran Morgan supported Principal Damsma saying: "There are legalities here that Principal Damsma can not and must not talk about."
"The tour is still a performance tour," Damsma said. "it is not just a field trip."
The revised itinerary (April 19) shows the students leaving Meaford on May 2, and in addition to the two performances, participating in a guided tours of Washington state buildings, museums, and memorials; attending an Evening Parade at the Marine Corp Barracks and a National Symphony Orchestra performance, and visiting the Arlington National Cemetery, before returning to Meaford on May 6.
The orchestra and jazz band are extracurricular programs, under the direction of Patrick Delaney. Up until the week of April 16-20, the two performing groups had had no rehearsals since November, leading more than one parent to question how well prepared the students were.
"Lack of rehearsals aside, Mr Delaney is someone the students trust and have faith in," one parent said. "It is not in the students' interest to go on a trip without him."