Staff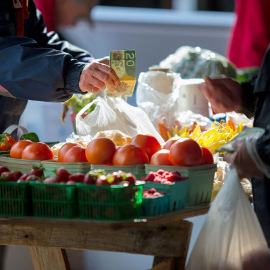 On Monday, April 30, Grey County is giving local farmers and food producers an opportunity to showcase their products and network with farmers' market managers from Grey County and neighbouring municipalities. The event is being held at Walter's Falls Hall, 104 Church Street in Walter's Falls from 6:30 p.m. to 9 p.m.
"Local farmers' markets are looking for all kinds of food vendors for the 2018 season," said Philly Markowitz, economic development officer with Grey County. "This event is a great opportunity for new producers who are looking to enter the local market place, or veterans looking to expand their reach."
Although local food is the focus of this event, craftspeople creating non-food products from agricultural materials (such as plants and seeds, wool items, lavender pillows, goat milk soap etc.) are also invited. Producers and market managers from Simcoe, Bruce, Dufferin, and Wellington are also welcome to attend.
Registration is required for this event through Eventbrite at www.farmers-market-networking.eventbrite.ca. Vendors may also contact Philly Markowitz by phone at 519-372-0219 ext.6125 or email to philly.markowitz@grey.ca.
Farmers' markets across Grey are preparing to open for the 2018 season with many opening for the Victoria Day weekend. Grey County's farmers' markets are a great place to shop for local food, to pick up prepared foods for a takeout meal, and to meet local artisans. To earn a true 'Farmers' Market' designation from public health, at least 50 per cent plus one of food vendors must be local producers. There are currently six farmers' markets in Grey County: Owen Sound Farmers' Market, Keady Market, Flesherton Farmers' Market, Thornbury Farmers' Market, Meaford Farmers' Market and Eat Well Market in Hanover. A market will also be opening in Dundalk this year and another is being considered in Williamsford. Announcements could be made as early as this spring.
"Farmers' markets are hubs that bring our communities together," said Grey County Warden Stewart Halliday. "Shopping at your local farmers' market isn't just great way to eat local and support farmers and food producers; they are great places to connect with neighbours. Many even feature live music and other entertainment the whole family can enjoy."