By Stephen Vance, Staff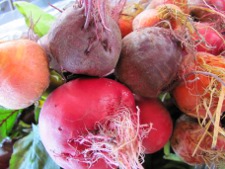 Local food producers return to the Rotary Harbour Pavilion on Friday June 7 to kick off the seventh season of the Meaford Farmers' Market.
The market will be open each Friday afternoon from 3 – 7 pm through October 11.
Market organizers are anticipating an exciting season, and they have been working hard in the off-season in order to bring new energy to the market this summer.
While fresh, local produce and meat products are the focus of any farmers' market, organizers want to make a trip to the harbour on Friday afternoons a memorable experience with live, local music, activities for children, as well as many surprises along the way.
"The Meaford Library is returning this year with the Children's Tent. There will be themes each week that will include stories and crafts," says market association President Richard Elzby, "The ever popular Market Bistro is back with new and returning vendors. There will be perogies and pulled pork on a bun, gelato and Belgian waffles, salads, hot pretzels, flat-bread pitas and apple fritters and more."
And that is just for starters.
Also returning this year will be popular Education Table, and the children's toys and games table. New for youngsters this season will be face painting every week.
A variety of live, local and talented acts will be featured at the Music Tent including: Our Shotgun Wedding, Bored of Education, Jayden Grahlman, Peter Anthony, Drew McIver, Down Right, Big Head, and 8th Street Orchestra. Brendan J Stephens, will be the opening act on June 7th.
Many interesting and interactive events are being planned which include a bike decorating contest for kids, an Art in the Park Day, and square dance performances.
"We think that "Hockey Day at the Market" will be a big crowd pleaser for all ages. Managers and players from the new Meaford Knights Hockey Team will be on hand to talk about the team, and sell season tickets. They will also have a draw for tickets to a game. There will also be hockey gear down on the cement pad for kids to stick handle and practice shooting on the net," said Elzby.
Special events and activities aside, the Meaford Farmers' Market is a fine showcase of our local agricultural heritage and those that visit the market will be able to find fresh locally grown vegetables and meat products.
Because all of the produce sold at the Meaford Farmers' Market is grown locally you won't find corn at the market in June, and you won't find asparagus in August. Ontario is very much a seasonal growing area, and as such visiting the market each week offers a fabulous education into what is harvested and when, in Ontario.
In June you can expect to find radishes and lettuce along with beans and beets. July brings a host of new produce including cabbage, carrots, garlic, peaches and onions. When August arrives so does corn and squash. And in September pumpkins are being harvested and ready for sale.
In addition to produce, the market will have vendors offering meats, such as beef, lamb, pork, chicken and duck, as well as honey, maple syrup, preserves such as pickles, salsas, jams, jellies, relishes and chutneys, and other food items including whole-grain breads, hemp products, pies, baked-goods, processed meats, cheeses, fudge, dried and fresh-cut herbs and flowers and edible perennial plants.
There will also be plenty of Arts and Crafts vendors selling paintings, cards, handmade people and barbie clothes, toys, wire art and beaded jewelry, glass pendants, painted stone jewelry, buckwheat hull pillows.
New this year will be an East Indian cuisine vendor at the market Bistro which will also feature the return of Jason's Apple Fritters.
"Continuing this year is the Apple Pie Trail and Passport Meaford, and they will be partnering with us again," said Elzby, "The directors for the 2013 season are hoping to keep the intent of the founders of The Meaford Farmers Market by creating a Friday Happening In Meaford."
If anyone is passionate about something that they would like to promote, share, or sell at the Meaford Farmer's Market, or would like to get involved, you can contact Market Manager Jaden Calvert at jaden@uoguelph.ca or 519-538-0628.
With the chill of winter behind us, the opening of the Meaford Farmers' Market is a definite sign that summer is approaching, and what better way to celebrate than visiting a farmers' market?