By Stephen Vance, Staff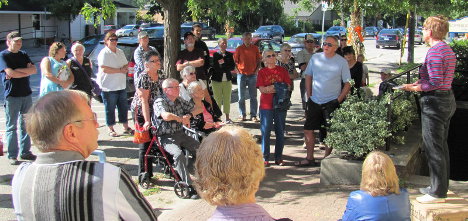 The first two Soap Box Saturday events for municipal candidates to step up and share their visions have certainly attracted crowds.
Roughly 40 residents – some who brought their own lawn chairs attended last Saturday's event outside the Meaford Independent office.
This week, we have Deputy Mayor candidate David Long, along with Jaden Calvert who is taking a second step up onto our soap box. Others may also attend, though at the time of publication, we have confirmed two candidates.
With the interest in this event exceeding even our own expectations – we figured each event might attract a handful of onlookers, not the dozens who have been attending – we will be in a new location this Saturday.
To keep the sidewalks clear, and to keep all attendees safe, we will take the Soap Box to Fred Raper's Park this Saturday at 11 am.
Fred Raper's park is located at the corner of Bayfield and Sykes Streets – home to the popular pirate ship playground equipment.
Come on out and root for your favourite candidates, ask questions, and listen to the candidates as they share their visions for Meaford.