By Stephen Vance, Staff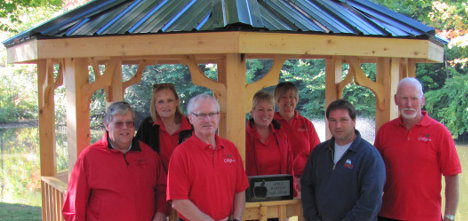 The organizers of Meaford's annual Apple Harvest Craft Show are ready to continue their tradition of hosting a large craft show each year that draws artists and arts and craft lovers from well beyond Meaford's borders.
They are also continuing another tradition – giving back to the community.
Lakeview Cemetery now boasts a new Mennonite crafted gazebo beside the pond thanks to the Apple Harvest Craft Show.
"A lot of people come up her to relax with a book, or to have a quiet lunch," Craft Show volunteer Dave Hardie told The Independent.
The gazebo was built and purchased locally, and will feature a granite inset etched with the Apple Harvest Craft Show logo.
Hardie said that over the 31 years of the event, more than $800,000 has been given back to the community through donations such as this.
The Apple Harvest Craft Show will be held this weekend on October 4 and 5, at the Meaford Curling Club, and across the road from the curling club at the Meaford & St. Vincent Community Centre.