By Harley Greenfield, Meaford Councillor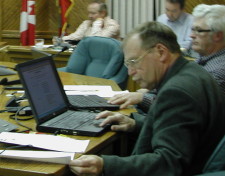 Over the last few months, there has been much discussion around the Municipality of Meaford Council table concerning our role, or lack of role, in the current Recreational Centre proposed for Victoria Park, Owen Sound.
This discussion originated from a letter to our Council, asking for a Municipality of Meaford Council member to sit on the Committee. Georgian Bluffs, another neighbouring municipality to Owen Sound has a Council member represented.
They have also shown interest in financially contributing to the cause.
A delegation from the Recreation Centre Committee, when asked to come forward, attended our Council Chambers a few weeks ago, and supplied us with an update of their progress, again asking that we appoint a member.
From the outset, I have personally supported the concept of the Centre. It would be a great asset to Owen Sound and surrounding area, including our municipality.
I applaud the efforts of Councillor McManaman and his committee. They have done a huge amount of legwork thus far in keeping the $38 million project moving forward. Hopefully, their progress will continue.
Mr. McManaman has stated at least twice, once in our Chambers, and once on a CFOS interview that the committee will be asking for supportive funding from our municipality in the future.
In essence, that is my interpretation of their desire to have one of our members on the Committee. In better financial times, I would be glad to throw some money toward this endeavour, but our Municipality is not in a strong financial situation, and will not be for a few years.
We simply cannot burden our already highly taxed residents with another substantial financial commitment.
I have stated that perhaps in 4-5 years we can jump in to the Rec. Centre financial scene, but not before. We currently have an annual $75,000 promise to the Meaford Hospital that we have struggled to fulfil. A new proposed Physicians' Clinic in our municipality will require local tax dollars, and we have a 45 yr. old outdoor pool that has outlived its projected lifespan by 5 yrs. already. And on, and on…..
I truly believe that before our Council can dedicate funding to a building situated in another municipality, we must first get our own finances under control.
Granted, as many as 300 of our residents use the Y facility now, and that number would increase if a new building is opened.
For now, in my humble opinion, this is nothing more than a matter of dollars and cents…….and those we do not have at the present.
I previously mentioned our own Blue Dolphin Pool on Richmond St. If it fails in the future, it will need to be replaced. Even with a fine new indoor pool facility in Owen Sound, there will still be a demand for a pool in our urban area. Perhaps we should be talking to our neighbours to the southeast in Blue Mountains about partnering in a new pool for both our municipalities. With expected expansion to the east of our urban area along highway 26, a location for a new facility serving both municipalities could be provided.
I thank Mr. Vance for the opportunity to express my views.
My letter is forwarded to express my own thoughts, and hopefully spark some discussion around a subject that could become an election issue in the months to come.
Harley Greenfield, Councillor, Municipality of Meaford