By Stephen Vance, Staff
For the seventh straight year the Dragons' Den Meaford competition hosted by the Meaford Chamber of Commerce provided an evening of entertainment, along with an injection of both cash and enthusiasm into Meaford's local economy.
More than $26,000 in cash and prizes were awarded to the contestants after making their pitches to this year's panel of dragons.
This year's big winners were Candice and Michael Ruhl who left the Meaford Hall stage with $3,950 in cash from the dragons, and a total of $17,525 in cash and prizes for their jewelry making business. The duo produce handcrafted sterling silver jewelry, and have plans to open a combination production and retail space in Meaford. They also have plans to purchase a new 3D printer for producing resin molds during the design of new pieces.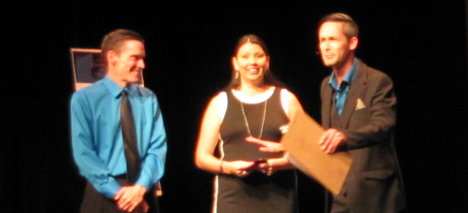 The runner up this year was Zach Hannam and his business Zaagi Soap Co. Hannam impressed the dragons with his passion, and community spirit, and his product was a hit with the dragons. Hannam's natural, handcrafted soap is made from locally grown ingredients, and he plans to use his $3,950 in cash and prizes from his Dragons' Den Meaford experience to expand his production capacity, and moving production out of his home.
Once again the audience had a say in this year's competition with the Audience Choice award. During the intermission audience members had the opportunity to vote for their favourite pitch, and five dollars from every ticket was contributed to the Audience Choice award, which this year amounted to $800. This year's Audience Choice winner is Mark Lewis who has plans to open a micro-brewery in the former Meaford Fire Hall on Nelson Street. While the dragons were enthusiastic about his plans, they didn't feel that he was far enough along in his business plan for them to be able to help out at this time. Combined with his other prizes, Lewis took home $2,004 in cash and prizes.