Staff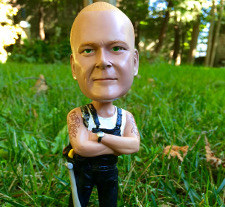 Meaford's Third Line Homes, and Holmes Approved Homes, have announced a fun new contest.
Drop in to the Presentation Centre at TerraceWood – Meaford's new 'healthy home development' and find the three hidden Mike Holmes Bobble Heads for your chance to win.
The grand prize is a trip for two to Toronto with two nights accommodation, $1000 spending cash and a chance to meet Mike on the set of his new show "Holmes & Holmes". Mike will call the winner personally to give them the good news.
Contestants who take a picture with a found Bobble Head and post it on social media have a chance to win one of five $100 Canadian Tire gift certificates and a chance to win a your very own bobble head.
Terrace Wood is located on Gordon Crescent off of Coleman Street – coming into town it's a left turn at Tim Hortons.
Come for a visit and your chance to win.