By Stephen Vance, Staff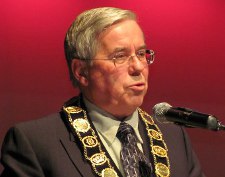 Meaford will have a new mayor after the October municipal election. Mayor Francis Richardson advised his fellow councillors during the first council meeting of the year on January 13 that he would not seek re-election.
After the meeting Mayor Richardson told The Independent that he felt it was time to step aside after helping to fix the financial woes in Meaford which the Mayor conceded were partly his responsibility.
"There are a number of reasons (for not seeking re-election), not because I'm disappointed or because I'm dissatisfied with what I have been able to do, or that I don't enjoy what I'm doing. There are personal reasons that are involved," said Richardson. "This last four years was a time in which I had hoped to lead Meaford in bringing us back on fiscal track because I had been involved with councils where we got off track. We have been very successful in doing that in these last three years, so I would like to leave on a high note personally as well as for the municipality. We are in good financial shape now, there are challenges, there will always be that, but I am very pleased with what I and council have accomplished."
While the Mayor expressed pride in the many years he has served the community as a member of council, Richardson says that he has one regret – the inability to unite the three former townships that amalgamated in 2001 to create the Municipality of Meaford.
"I had hoped to have been able to get the three parts of our municipality working together, and having a more comfortable understanding as one community. That's the only regret I've got," offered Richardson.
The Mayor said that he will miss his weekly "Coffee With The Mayor" Fridays. Richardson would rotate through the various coffee shops and breakfast restaurants throughout the municipality to meet with residents one on one, which the Mayor said was very helpful in building bridges of understanding with residents, and to hear what most concerned members of the community.
Richardson's time as mayor has been a tumultuous one. From lawsuits against Meaford property owners on Georgian Beach Road, to a lawsuit in response by one of those property owners against Richardson personally alleging abuse of his position of power in the Georgian Beach Road fiasco which ultimately cost the municipality more than $1.3 million. The Mayor also came under fire for his initial support for a proposed waste to energy incinerator facility in the municipality. Rural residents also held the Mayor's feet to the fire during the past year with calls for the Mayor to resign, and a rallying cry for Sydenham residents to support the investigation of the potential for separating from the Municipality of Meaford.
While it is still very early in the election year – with the deadline for candidates to file their nomination forms with the municipal Clerk being September 12 – there is already one candidate hoping to take over the Mayor's chair.
Councillor Deborah Young, who lives in Bognor and has been a champion for rural issues at council, particularly those that impact the former Township of Sydenham for which Young was Reeve during the years of amalgamation.
Young thus far is the only candidate to file their nomination papers for the October 27 municipal election.