Staff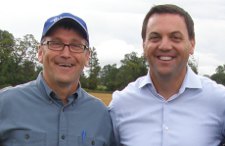 Bruce-Grey-Owen Sound MPP Bill Walker says that "despite the Liberal government's mismanagement of Ontario's finances, pending tax increases and serial scandals," the year 2013 was overall positive for the Official Opposition at Queen's Park.
Walker noted that a number of the PC Caucus members' motions and bills were passed by the Legislature this year, including Walker's own motion that calls on the government to immediately strike an all-party committee to study transportation needs in rural and Northern Ontario.
"As much as I and my caucus colleagues are ready and willing to get Ontario back on the right track, we technically cannot as we're not the government. But, as Opposition members in a minority parliament, we can however chip away at some issues important to our constituents through private bills and motions and help to bring about positive change for some Ontarians."
Among those bills that passed were Whitby MPP Christine Elliott's motion for a select committee on Mental Health Developmental Services, Elgin-Middlesex-London MPP Jeff Yurek's Ryan's Law, which calls for standardized asthma-management plans in Ontario schools, Oxford MPP Ernie Hardeman's carbon-monoxide bill, Sarnia MPP Bob Bailey's Call Before You Dig bill, and Barrie MPP Rod Jackson's The Youth Right to Care, which extends the right to care to children aged 16 and older, will be soon called for Third and final reading.
"These are all great pieces of legislation that will have a significant impact on families, seniors and youth who otherwise would have been left neglected by the government," Walker says, adding that he never shies away from supporting a good bill, regardless of the bill's party affiliation. "Some of the change achieved through these private bills was long overdue, and I think that's a major step forward for all of us."
Walker, who spends a majority of his time at Queen's Park debating bills, says he wasn't surprised when his name popped up on the Top 10 Year-end 2013 Queen's Park Speakers Statistics.
According to Ontario Monitor, a website dedicated to tracking activities in the Parliament, Walker was the 7th most prolific speaker with 85,427 words spoken over the past 12 months.
"With the Liberal government's shameful management record, including the cancelled gas plants, Ornge, OPG and eHealth scandals, it was hard to keep quiet," he says. "It is my job to hold the government accountable. And so I tried my best to make it clear to this government that every dollar wasted on these scandals was a dollar taken away from health and social programs and services needed in Bruce-Grey-Owen Sound, at every opportunity."