Staff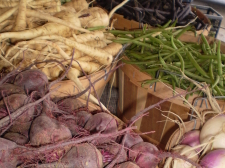 It costs $775.37 a month to feed a family of four, two adults and two children, in Grey Bruce. That's up 3.7 percent from last year ($747.49). The figures are calculated from the Nutritious Food Basket survey measuring the regional cost of basic healthy eating. The survey is based on the prices for 67 representative food products that reflect healthy eating recommendations.
The 2013 analysis shows Grey Bruce has seen a steady rise in the cost of food.
"Unfortunately, income has not increased at the same rate, so individuals and families are forced to use more of their income just to meet basic needs. For those on social assistance, this may mean up to 38 percent of their monthly income is necessary for food alone. This is not possible after paying for rent, utilities and other necessary expenses." says Jill Umbach of the Bruce Grey Poverty Task Force. "In comparison, the average family in Ontario would only spend 11 percent of their income to meet their food needs."
It is important to recognize that food insecurity is not only related to the cost of food. Income, housing, education, transportation and food skills are some of the factors which will influence whether someone in our community is left hungry. Grey Bruce is fortunate to have a number of community programs to support families including: Eat & Learn Student Nutrition Programs in every school, 18 Good Food Box sites, and a variety of community gardens. Local short-term solutions also available include: community meals, food banks and community kitchens.
The Bruce Grey Poverty Task Force invites interested members of the public to an open house to further discuss local food security and related concerns. The open house will be held from 10:00 a.m. – 12:00 p.m., Friday, December 13, at St. Andrew's Church, 865 2nd Ave. W., Owen Sound. It's time to start a conversation about how to make our community a healthier place for everyone.
For further information, call Public Health at 519-376-9420 or 1-800-263-3456 or visit our website at www.publichealthgreybruce.on.ca.