Staff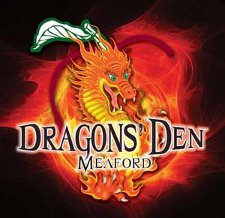 The Meaford Chamber of Commerce is getting ready for the 7th annual Dragons' Den Meaford on October 28. Organizers say that the award-winning event continues to be a huge success and has already handed out more than $160,000 in cash and prizes, helping over 30 businesses within the Municipality of Meaford.
Interested applicants for this year's event can prepare by attending business planning workshops being held on July 16th & September 10th from 7pm to 9pm. Potential applicants and those who are simply interested in creating a business plan are welcome to attend.
The first workshop will be led by Allison King, Business Coach at the Business Enterprise Centre Owen Sound and Area. This presentation walks you step by step through the process of planning your business and writing your business plan, so that your business starts off right.
The second, an "angel workshop" will be an interactive session with Sandy Robertson, Founder and Managing Director of Georgian Angel Network who will discuss the important aspects of each candidate's business that the Dragons will be looking for, so as to optimize each candidate's chances of being awarded prizing from the Dragons and audience.
"All Dragons' Den Meaford contestants are showcased publicly and community awareness of their products and services is guaranteed. In fact, the event would not be possible without community support and sponsorship since the Meaford Chamber of Commerce is a Non-Profit organization, working for the business community and the betterment of the community as a whole. Dragons' Den Meaford has undoubtedly been a worthwhile annual event for economic development in the Municipality of Meaford," said the Chamber of the event.
In 2010, Dragons' Den Meaford won the Business Retention / Expansion award from the Economic Developers Council of Ontario (EDCO).
Although Dragons' Den Meaford has been an annual event for the past six years, the Chamber was successful in securing $2,500 from the Meaford Community Grants Program. This funding will be used to address the feedback from previous contestants; to add more communication and support before and after the show. Contestants have expressed that this will help them become more successfully involved with the community and to effectively use their cash and prizes. Previous to the decision about the Meaford Community Grants Program funding, Dragons' Den Meaford was approved for $5,000 from the economic development side of the Municipal budget. This donation is then returned to the Municipality to pay for the rental of Meaford Hall Arts & Cultural Centre where the event is held.
For more information about entering this year's Dragons' Den Meaford and to pick up an application package contact the Meaford Chamber of Commerce in person at 16 Trowbridge St. Meaford, over the phone 519.538.1640, via email info@meafordchamber.ca, or visit them online at meafordchamber.ca. The contestant application deadline is September 18th.