Staff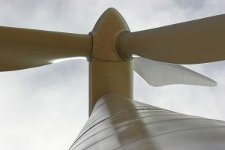 The Liberal government's change of heart about its multi-billion dollar "sweetheart Samsung deal" confirms that the green energy plans have been botched from the get-go, says Bruce-Grey-Owen Sound MPP Bill Walker.
Walker was commenting on the news that the provincial government was cutting in half its controversial sole-sourced deal with South Korean conglomerate Samsung to produce green power in Ontario.
The change means that Samsung will produce only 1,369 megawatts of electricity, down from the original 2,500 megawatts.
"We have always known that this was an imaginary energy plan dreamed up by the Liberal team. What is so vile about their plan is that it has more than doubled our hydro rates, cost us billions in offloading of surplus power to our neighbours, and shut down manufacturing and jobs across the province," Walker said, citing findings from the Auditor General's 2011 report.
The PC party's energy critic, Vic Fedeli, said the original Samsung agreement committed Ontario to more power than all of Niagara Falls combined. He also said that under the new terms, Ontarians will still continue to pay rich subsidies for nearly 500 industrial wind turbines.
The PC party noted that the last 18-month provincial energy outlook states the Liberals still plan to bring another 3,300 megawatts worth of expensively-subsidized renewable energy online by fall 2014.
"And this in spite of the admission they made this week — that subsidizing renewable energy has been a misguided deal for taxpayers and business, and especially bad for rural Ontario," Walker said. "Rural communities are saddled with the giant turbines that are destroying communities and people's health."
He added that the party will push for answers on the rewritten Samsung deal, as well as it will continue to question Premier Kathleen Wynne and her team over the emails destroyed as part of the Liberal gas plant cover-up in committee this summer.