Staff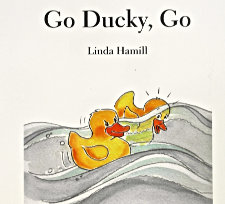 Linda Hamill is a local children's author for ages 3 -11. She lives, and writes, just outside Meaford in Griersville.
The locale of each of her stories is Meaford events. 'Scarecrow Invasion' is for older children, and happens during a Meaford Scarecrow Invasion. 'My Strong, Sturdy Scarecrows' is for younger children and occurs during the building of scarecrows for Meaford Scarecrow Invasion. 'Go Ducky, Go' takes place during Meaford's Great Duck Race. Linda also has a colouring and activity book available based on the scarecrow theme.
The Meaford Scarecrow Invasion is a part of Linda's life. She helps build scarecrows and is a member of the Scarecrow Invasion Marching Kazoo Band. She has also volunteered at the co-op nursery school that sponsors the Meaford Great Duck Race, and has attended several Duck Races.
All her books are illustrated, portraying various aspects of our community. You should recognize them all!
'Scarecrow Invasion' was released last year. Her other two books are being released this summer. 'Go Ducky, Go' is already available at the Meaford's Farmer's Market, and 'My Strong, Sturdy Scarecrows' will be there the beginning of August.
This year's books will officially be launched at the Meaford Public Library on Fri, August 15 at 10:30 a.m.
Linda has always enjoyed writing. She was an English teacher and has taken several writing courses. Her mother was also a teacher and wrote in her journals everyday. The key to successful writing is to writing everyday!
Linda promotes reading to children as early as possible and encourages all ages to read.
For more information call Linda at 519-538-0961 or email her at linda.hamill1@gmail.com