Staff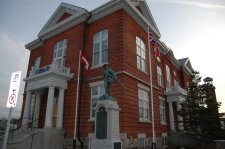 Launching on Sunday, July 20 at 2 pm at Meaford Hall Arts & Cultural Centre is a new event: Gallery Talks. Completely free and geared for all ages, this is intended to be a casual, personal way for the public to learn more about the exhibits on display, creative development, their local artists and more.
A representative for each exhibit (in most cases this will be the artist) will lead a guided tour through the exhibit, answer questions and help visitors delve deeper into the artwork.
Kicking off the new programming will be Jack Morgan, one of the organizers of the Chuck and Margot Finley Retrospective Exhibit. Open until July 30th, the exhibit features the work of Meaford residents and artists Chuck and Margot Finley. A unique feature of this exhibit is that the majority of the artwork on display has been loaned from private collections, meaning that its current presentation at Meaford Hall is likely a once in a lifetime opportunity to see such a complete display of artwork by these talented local artists. In addition to the bright oils and watercolours are a display case featuring mementos and other items belonging to or created by the artists; a digital display showcasing photos of pieces that could not be included in the exhibit, and even samples of fashion illustration by Margot Finley.
The Gallery Talks programming dates and times will vary according to artist availability, so keep watch for information about future events. Next is Love Letters, an exhibition of photography by Sophia Lemon. It will feature people who are madly in love and the scenery from their love stories. Guests will have a chance to win a photo-shoot for themselves and someone they love.