By Stephen Vance, Staff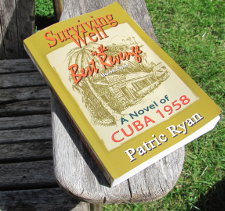 With the warm summer days ahead, book lovers are anticipating afternoons spent in a comfortable lawn chair with a cold beverage and a good novel.
Owen Sound author Patric Ryan has a new book available, and if this summer hasn't been hot enough for you, he can transport you to 1950's Cuba to heat things up.
"The world slumbered between wars, but Cuba was poised on the brink of another defining moment in her tortured history… It was a dangerous time to be in Cuba. Fidel Castro inflamed the people to believe a revolution could finally succeed," says the author in describing the setting for his novel Surviving Well is the Best Revenge. "Christian James Joyce fled Montreal's emerging sub-culture of Bohemian socialist rhetoric, always heading south, if obliquely. Running from himself in a haze of drugs and music. He wanted to hide out in Cuba for a while, get clean. To be at peace in his villa above the sleepy harbour of Los Espiritos, waiting for Renee."
If the dust-jacket blurb doesn't hook you, a page or two of the first chapter certainly will, and once immersed, each of the 340 pages that follow will nearly turn themselves.
The Independent talked to Ryan about his writing, his inspirations, and about sharing his stories with others. What we discovered is a hidden gem of a local storyteller.
"From early grade school I was known as the 'writer' and the 'artist'. The kid who got to read his short stories to the class, excelled in English Lit, but little else, and got to do the art work on the blackboard for Christmas," Ryan told The Independent.
Ryan, who along with his wife and children, has lived in Owen Sound for 24 years, says that in one way or another, a story is always forming in his mind.
"Movie and novel scenarios constantly cycle in my head, often while doing something else, like cutting grass at a golf course, or driving long distances, sailing. While writing poetry, plays, and teaching after university, I started a novel: a sci-fi end of days scenario, with a good premise, but too many options got in the way," explained Ryan.
Ryan has taken that creative energy to write and publish eight novels and a number of screenplays – two of which earned him screenwriting awards.
"Surviving Well is the Best Revenge, the title, had a long gestation but the novel inspiration was a short desperation scenario. First, the title: in the early Seventies I had a studio gallery in an old fishery on Lake Erie. While working in the studio I listened to either daytime Detroit baseball on WJR or CBC. There was a story on about the American expats in Paris during the 1930s, principally a wealthy New York couple called the Murphys (who hung out with expat writers and artists, Hemingway, Fitzgerald, Callaghan, et al.) and a line popped up from Fitzgerald to the effect that 'living well was the best revenge'. As a perennial struggling artist, although I never considered it a struggle because I just loved living on the fringe, still do, I coined the title, Surviving Well is the Best Revenge. Much closer to my own philosophy," says the author of the beginning of his latest novel.
Those who pick up Surviving Well is the Best Revenge might not have to wait very long for the follow-up book.
"Book Two of Surviving Well is the Best Revenge will be out before Christmas unless I decide to finish The Burning Islands and release it first, since three main characters from The Burning Islands appear in Books Two and Three of Surviving Well. Then it's edit and release The Paris Shooter's Union, continue writing the Surviving Well series and begin writing the next new book called The Matter With Jews. The Matter with Jews is an intriguing project. Set in WWII again, also involving submarines, ships and a German submarine commander, but nothing to do with Fogo's War," explained Ryan.
Clearly this is one author not suffering from writer's block.
You can find Surviving Well is the Best Revenge along with Ryan's other titles primarily at independent book stores, including Stuff to Read in Meaford.
"Getting indie self-published books to market is a challenge. I have a database of every indie book store in Canada and several in the USA. I like to deal with indie bookstores because the owners are passionate about books and the atmosphere is wonderful. There are certain realities about self-published authors and marketing books so I contact stores and then deliver the books in person. So far I have my books in twenty-five indie book stores in south-western Ontario."