Staff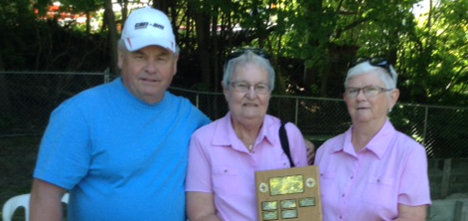 Beautiful sunny weather greeted lawn bowlers on June 9 as the Meaford Lawn Bowling club to hosted its annual Rotary Lawn Bowling Tournament.
Enthusiastic players were from: Collingwood, Hanover, Mount Forest, Oshawa, and Owen Sound.
Proud winners of the trophy were Velda Francis and Helen Kelley of Mount Forest.
Second place winners were Owen Sounds John Flynn and Marie Mills.
Meaford's own Donna Eagles and Linda Eagles took home third place prize.
Gladys Williams of Meaford and Cathy and Dan Dekking of Oshawa took the consolation prize.
Helen Kelley and Velda Francis from Mount Forest received the Rotary Tournament Trophy from Rotarian and Meaford Lawn Bowling President Dale Keaveney.