By Stephen Vance, Staff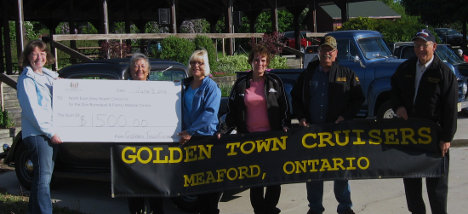 Meaford's Golden Town Cruisers have made a $1,500 contribution to the Don Bumstead & Family Medical Centre, currently under construction on Highway 26.
The organization has been in operation for 20 years and meets at the Meaford Rotary Harbour Pavilion area on Tuesday evenings during the summer months.
The Golden Town Cruisers will once again have a large display of classic cars during Canada Day Celebrations at the harbour.
Those looking to contribute to the medical centre have many ways to do so including purchasing a brick during the BIA Sidewalk Sale on June 28.