By Stephen Vance, Staff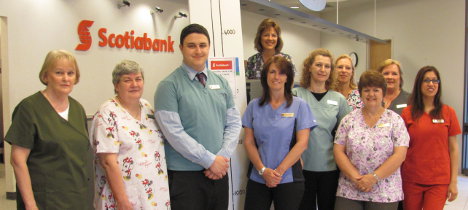 As they so often do, Meaford's Scotiabank branch is once again conducting a fundraising campaign for a local initiative, this time for the Don Bumstead & Family Medical Centre, currently under construction on Highway 26.
With their matching donation program, residents can visit the branch to make a donation, and Scotiabank will match those donations up to $5,000, for a total potential of $10,000 be raised by the initiative.
"Anybody that makes a donation, we will match up to $5,000," Scotiabank branch employee Kathy Lemon told The Independent. "We believe in the community and we like to stand behind the community. We need a medical centre."
Meaford's new Scotiabank Branch Manager Carolyn Coe, who came to the community last month after three years in Collingwood says that she has enjoyed her early days in Meaford, and she is pleased that her branch is helping to raise funds for the new medical centre.
"I love it. It's exactly what I thought it would be. A nice small town, and nice local people," offered Coe.
The fundraising initiative will run until the end of August.