By Stephen Vance, Staff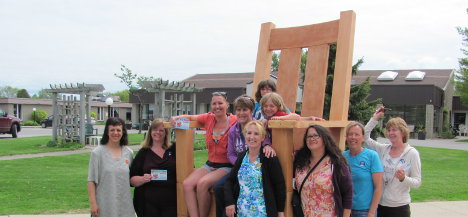 Those who were travelling along William Street in Meaford on Wednesday, May 28, may have wondered why there was a giant rocking chair in front of the Meaford Long-Term Care Centre.
The oversized rocking chair is touring Ontario this summer as part of an Ontario Health Coalition's initiative aimed at raising awareness about access to and standards of care at long-term care centres across the province.
Peter Boyle, a volunteer with the Ontario Health Coalition told The Independent that long waiting lists for access to long-term care facilities are frustrating for the elderly and their families.
"Ontario-wide there's almost 22,000 on a wait list to get in to a facility," explained Boyle.
In addition to those waiting for access to a long-term care facility, Boyle says that another 35,000 patients currently in facilities await transfers to a more appropriate care centre for their particular needs, or to one closer to home and family.
Another focus of the initiative is to raise awareness about patient rights.
"There are people in long-term care homes who have to leave for medical treatment, and then have to go back on a waiting list to get back in. They might not get in to the same home, they might have to go to a community that is far away from home, or their families have to provide personal care at home," said Boyle.
Boyle said that setting a minimum care staffing standard of four hours of hands-on care per day per patient, along with improving access to long-term care facilities would go a long way toward easing pressures on Ontario families seeking care for their elderly relatives.
Grey-Bruce-Owen Sound provincial NDP candidate Karen Gventer paid a visit to the giant rocking chair while it was in Meaford to sign one of the cards passersby were being asked to sign in support of the initiative which will be forwarded to the provincial government.
"It's important that we invest more into our healthcare. What's been going on over the last 20 years of giving corporate tax cuts while cutting our front-line services really is not helping. We need minimum standards of care in every area of healthcare, including long-term care," said Gventer.