Staff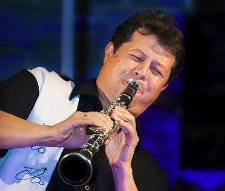 Jazz lovers take note: Bob DeAngelis is the current title holder for Jazz Clarinetist of the Year (as declared by the National Jazz Awards of Canada), and he comes to Meaford on Thursday, June 12.
A talented musician and respected bandleader, DeAngelis will play with his group Sax Appeal in the Opera House at Meaford Hall Arts & Cultural Centre at 8 pm. Their extensive repertoire covers artists such as Sinatra, Gershwin, Nat King Cole, Cole Porter, Ellington, Diana Krall and more.
Tickets are $35 each and available through the Box Office. Group discounts of 15% off are available when purchasing 6 or more tickets together, and the EyeGo program also applies to this show: a limited number of $5 tickets are available for current Ontario high school students.
DeAngelis has won two Juno awards and has performed worldwide at renowned venues such as Carnegie Hall. Over the past 20 years, he has entertained numerous heads of state including our prime ministers Pierre E. Trudeau and Brian Mulroney, several members of the British royal family, as well as United States presidents Reagan and Bush.
He has headlined at Toronto's most prestigious hotels including the grand opening of the Windsor Arms Hotel and performing as House Band at the Royal York's Imperial Room. With his jazz bands he plays at festivals, clubs, private functions, fund-raisers and promotions. As a Musical Director/Entertainment Consultant, Bob has staged productions for corporate award ceremonies, theme galas and charity fund-raisers. Several of his albums covering a variety of genres are available at bobdeangelis.com.
For more information on this and other Meaford Hall events, visit the website to purchase tickets online at meafordhall.ca, call 1.877.538.0463, or drop by the Box Office.