Staff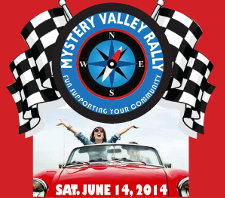 Attention scavenger hunt enthusiasts! The Meaford Hall & Culture Foundation (MHCF) is inviting those interested in supporting the local arts scene to join them in a unique fundraiser taking place Saturday, June 14.
The car rally will take participants from the starting line at the Meaford Harbour Pavilion through some of the most beautiful scenery in the area, ending with a celebratory BBQ at the finish line.
Tickets are available through the Box Office at Meaford Hall for $65 and include a BBQ lunch and beverages as well as a $40 charitable tax receipt. Members of the MHCF Friends of the Foundation program enjoy a 10 percent discount on ticket price. Interested persons are encouraged to register by June 10.
Put a team together or join one at the starting line, and bring the vehicle of your choice (it must have working odometer as the directions are based on kilometres). Each team will receive two envelopes: one holds the directions and clues which will lead you to items that must be discovered along the route. The second is an 'escape envelope' showing the way to the finish line and BBQ; to be opened should you get lost.
In addition to assisting Meaford Hall with capital improvement projects, the MHCF are particularly focused on ensuring local youth have opportunities to develop and showcase their talents. Among its other initiatives so far in 2014, the non-profit has sponsored a French film festival for students; the productions of Andrew Gawley: The Man With Steel Hands and Beautiful Joe; the Georgian Bay Idol finale and the Georgian Bay Youth Orchestra recital.