Staff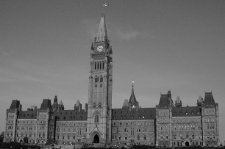 Larry Miller, MP for Bruce-Grey-Owen Sound, is encouraging all eligible organizations in Bruce and Grey counties to apply for funding through the New Horizons for Seniors Program (NHSP).
The NHSP is a federal grants and contributions program that supports projects led or inspired by seniors who seek to improve the lives of others in their communities.
Through this program, organizations may receive up to $25,000 in grant funding. To be eligible for funding the project must address one or more of the programs five objectives: volunteering, mentoring, expanding awareness of elder abuse, social participation and capital assistance. Eligible recipients of the funding include: not-for- profit organizations, community-based coalitions, educational institutions, public health institutions, municipal governments and First Nations groups.
"Many organizations throughout Bruce and Grey counties have applied for funding for local projects through the New Horizons for Seniors Program in the past and have received funding for these projects," said Miller. "I encourage all eligible organizations with an eligible project to apply for funding through this program."
Over 1,770 projects were approved through the last call for proposals which totalled $33.4 million in funding. Projects can be community-based, pan-Canada, or pilot projects.
For more information on the NHSP please visit; http://www.esdc.gc.ca/eng/seniors/index.shtml.