Staff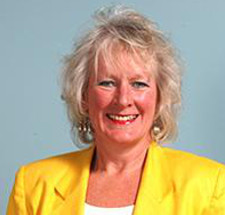 A well-known and longtime Grey County mayor, Ellen Anderson, will be carrying the banner for the provincial Liberals in Bruce-Grey-Owen Sound in the upcoming provincial election, the riding association confirmed today.
The BGOS Liberal campaign says that Anderson is a lifelong entrepreneur with over 15 years experience as a municipal leader in the fastest-growing tourism region in Ontario.
The current Mayor of The Town of Blue Mountains – a role she has held since 2003 – Anderson is well-known in Bruce-Grey-Owen Sound and beyond. In addition to her political career, she has well over 25 years of experience in motivational speaking, conflict resolution, and personal mentoring and life coaching.
The youngest female mayor in Canada at the time she was first elected in 1988, Ellen has earned a reputation as one of the province's most competent, experienced and successful municipal leaders. As the head of an organization with a multimillion dollar capital and operating budgets and acting as CEO to over one hundred employees, Anderson communicates with upper levels of government and has been successful in assisting the municipality and region to receive millions of dollars for capital and operating projects critical to building a safe, healthy, beautiful and financially-secure community.
"We're frankly thrilled to have Ellen as our Liberal candidate," says Kimberley Black, president of Bruce Grey Owen Sound Provincial Liberal Association. "Ellen has a terrific reputation, and a demonstrated track record as a politician who knows how to build community. Ellen has overseen the growth of one of Ontario's most diverse and successful communities."
Anderson has served in numerous other leadership roles throughout her career, and has been a speaker nationally and internationally, on such issues as water levels and the environment. Many people in Bruce-Grey-Owen Sound will remember that, as a member of the board of the Great Lakes- St. Lawrence Cities Initiative, Anderson was active in challenging a proposal to transport radioactive cargo through the Owen Sound harbour – calling for a full and transparent assessment of the controversial shipping proposal.
Anderson also helped bring municipalities together from various jurisdictions to develop a coordinated regional strategy for Southern Georgian Bay Shoreline Management.
"With a representative like Ellen Anderson, we have an extraordinary opportunity for this riding to have an intelligent, persuasive and constructive voice at Queen's Park," says Black. "Kathleen Wynne is working hard to keep Ontario moving forward. We want to be a part of that."