By Caleb Jones, Student Reporter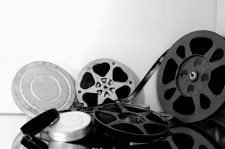 Earlier this month, students in the French program at Georgian Bay Secondary School (GBSS) organized and arranged a fully functional French Film Festival for a large group of local students.
The event, touted as the "First annual French Film Festival", was truly unique, featuring the showing of two acclaimed French films, as well as a realistic French cafe, and the opportunity to walk the red carpet. It even included a string quartet, and the chance to win an iPod Touch.
A great example of all the talents at GBSS, the event was a true success. The Hospitality program made all the delicious food served at the cafe. The selections included French classics like croissants, éclairs, and 'pain au chocolat' (chocolate bread).
The Music Program also provided four skilled student musicians to play classical music, setting the elegant, classy atmosphere.
The all-day event took place at Meaford Hall on Thursday, April 10th. Students came from GBSS, as well as Meaford Community School, Beaver Valley Community School, and the event was also open to community members.
The event was designed by several GBSS teachers, and was organized largely by students in the French program at the school.
The organizers said that the goal of the event was to, "create some excitement around Francophone culture and language, but also to give students a better understanding of the relationship, both historically and at present, between the Francophones and Anglophones in Canada."
The film shown in the morning was "Louis Cyr", the recent winner of the prestigious 'Best Picture' Jutra Award for French- Canadian film, as well as being the highest grossing Quebecois film in 2013.
The film explored the life of Louis Cyr, who was the world's strongest man in the late 19th century. The French Canadian giant lived a highly challenged life, struggling with poverty, opposition, his temper and the vanity of those working with him. The film displayed this in a touching manner, taking the audience through his life with charm and beauty.
The afternoon film was a biopic on the life of Maurice Richard, the famed hockey player for the Montreal Canadiens. Like the morning film, it was extremely successful both critically and commercially when it was released in 2007.
The film showed the progression of character throughout an individual's life – from struggling with poverty, to struggling with opposition and critics once he became successful, and ultimately overcoming it all to be one of the most successful hockey players to ever play the game.
Both films were well received by the audience, and surely taught all participating both a lot more about two incredible French-Canadian men, but also more about the human spirit and overcoming adversity.
Organizers felt the event was a success, and hope that they will be able to organize similar events in coming years.