Staff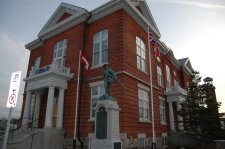 The Meaford Creative Arts Association has just completed the selection and hanging of their Juried Art Show in the Galleries at Meaford Hall. Artwork in a variety of mediums from artists working in Meaford and throughout Grey-Bruce country will be open to the public from April to May 31.
An Opening Reception and Awards Presentation was held Saturday, April 5, during which visitors could meet the artists and view the exhibit.
"The free exhibits in the Galleries are available to visitors whenever Meaford Hall is open; please note, however, that the rooms are occasionally closed for private rentals," said Meaford Hall in a press release.
This Juried Art Show has been put together by volunteers, who have put many hours into its creation. The Meaford Creative Arts Association enjoys the opportunity to give their expertise to the event, promoting the arts, the Galleries and Meaford Hall itself. It allows artists a great opportunity to have their work shown in a professional gallery.
The Meaford Creative Arts Association has been active for twelve years. Each Monday from September through June (excepting holidays), the members can be found creating artwork in the Meaford Hall Terrace Room from 9 am to 4 pm. Throughout the summer they enjoy sessions outdoors. In the fall, the group hosts an annual Art Show and Sale called Changing Colours from the end of September to mid-November.
The group is also quite active in the community, assisting with a summer art camp for children and contributing each year to the children's art prizes at the fair, among other projects. The Meaford Creative Arts Association has also proudly contributed ceiling tiles "painted with art scenes " for the Meaford Hospital as part of a successful fundraiser. There are now 128 of them gracing the ceilings for all to enjoy.