By Stephen Vance, Staff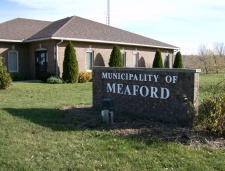 Councillor Lynda Stephens lost her bid to have a question on the October 27 municipal election ballot that would have asked voters if the Municipality of Meaford should change its name.
Stephens had given a notice of motion on the subject at the February 18 council meeting that had originally sought a question asking voters if they would support changing the name of the municipality to the name briefly adopted by the newly amalgamated municipality more than a dozen years ago. That name was Georgian Highlands.
"This municipality, when it first came into existence, was called Georgian Highlands. I've heard for years and years now how some people think it's divisive (using the name Meaford) because it's the town name and people don't feel a part of it," Stephens told council at the February 18 meeting.
The revised motion did not seek a specific name, but rather it would have asked voters if they would "support changing the name of the Municipality from 'The Corporation of the Municipality of Meaford' to a new name."
Stephens told council that she previously did not support the idea for changing the name of the municipality, however discussions with residents from across the municipality caused her to change her opinion after realizing that for many the name of the municipality is inappropriate and a cause for confusion.
At the time of the amalgamation of the former Town of Meaford with the former townships of Sydenham and St. Vincent, a transition team voted in September of 2000 to name the new municipality Georgian Highlands.
Several names had been considered at the time including Georgian Shores, Cape Rich, and Queen's Bush.
Councillor Barb Clumpus told council on March 24 that she was part of the team tasked with the job of coming up with a name for the new municipality, and she said that at the time Cape Rich was her preferred option, however after more than 13 years known as the Municipality of Meaford, the time to change the name has long passed.
Councillor Mike Poetker doubted that a change of name for the municipality would make a difference in the unity of the municipality.
"When I ask people where they are from, they tell me they are from, and whether Elmhedge, Bognor, or Annan. People will always refer to themselves being from downtown Bognor, if they're from downtown Bognor. But if it's called Georgian Shores here, guess what? Nobody knows where we are," offered Poetker.
The motion was defeated 4-3, with Councillors Clumpus, McIntosh, and Poetker, and Mayor Francis Richardson voting against.