By Stephen Vance, Staff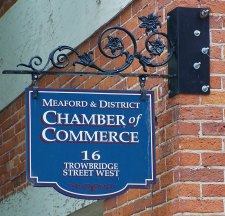 Bruce-Grey-Owen Sound MPP, Bill Walker, announced this week that Meaford's Chamber of Commerce is one 11 successful applicants for grants from the Ontario Trillium Foundation in the Bruce Grey area.
According to a press release issued by Walker's office, Meaford's Chamber will receive $32,800 to "develop a plan to offer a wider range of informational services and identify new sources of community support."
Chamber President Shirley Keaveney was thrilled with the news of the grant.
"The Meaford Chamber of Commerce is incredibly pleased, honoured and excited to have this opportunity to move forward with a feasibility study to determine the needs of a Business Support Centre here in Meaford," Keaveney told The Independent. "We will spend the initial portion of this process interviewing local businesses and potential partners, gathering and analyzing the information and creating a plan for financial sustainability."
Keaveney suggests that developing a "one stop shop" for Meaford businesses seeking information or assistance will be good for the local business community.
"This would include such potential offerings as employment services, training programs, mentor-ship programs, business start up seminars, business counselling, professional development workshops, and a business resource library. This is an amazing spin off from our very successful Dragon's Den, we want to be able to support businesses meaningfully on a grander scale than we currently have the resources to do, all year round," said Keaveney.
"The goal of the Business Support Centre is to encourage people, particularly our youth to remain in the area and also to attract and encourage new residents to come to Meaford and open businesses here. Our overall mission is to play a major role in creating a vibrant business environment in Meaford that will result in economic growth through collaborative efforts with existing business and our supporting partners," offered Keaveney.
The Ontario Trillium Foundation is an agency of the Government of Ontario.