Staff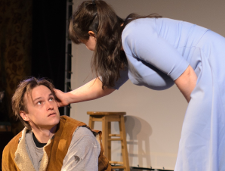 The Beautiful Joe Heritage Society and the Grey-Bruce Arts Collective present the World Premiere of Michael O'Brien's stage adaptation of Meaford's own Beautiful Joe this May 14-17, 2014 at Meaford Hall.
Beautiful Joe tells the moving tale of Joe – a mongrel dog rescued from a cruel owner – who goes on to live a wonderful life with a loving family.
The Beautiful Joe Heritage Society commissioned acclaimed Canadian playwright Michael O'Brien to adapt Margaret Marshall Saunders' beloved novel.
"Bringing Joe to life onstage has been a main focus of our organization for the past few years and we are so excited to see our hometown hero leap to the stage in this professional theatrical production," says Evelyn Dean, chair of the Beautiful Joe Heritage Society.
"Joe's journey is turning homeward and we couldn't be more thrilled about this production," says Roger Shank, Artistic Director of the Grey-Bruce Arts Collective.
Following 2010's successful staged reading at the 100 Mile Playwright Festival, Shank and O'Brien set to work on fine-tuning the play. In 2012, the Beautiful Joe workshop production was the top seller of Stratford's SpringWorks Festival, proving what generations of readers already know: Beautiful Joe is a remarkable story that touches people's hearts.
O'Brien's adaptation brings the novel (written in 1892) to vivid life upon the stage, enveloping us a special world where people are larger-than-life, and it is the animals who embody the highest human qualities – conveyed so memorably by Saunders in her original tale. The soul of the play sings through the melodic folk music of up-and-coming composer Courtney Meloche.
Under the direction of Roger Shank, the outstanding cast includes Mackenzie Muldoon as 'Laura' and Ryan Boyko as 'Joe', both of whom graced the Meaford Stage in 2013's The Tank Range Project.
If you are interested in learning how you can help the project please check out Beautiful Joe's Indiegogo Crowd-Funding campaign at http://www.indiegogo.com/projects/beautiful-joe-leaps-to-the-stage.
Beautiful Joe is still accepting volunteers to help with various aspects of the project. If you are interested please contact the Beautiful Joe Heritage Society at 519-538-5895.
Beautiful Joe is generously supported by The Ontario Arts Council, The Meaford Hall and Culture Foundation, the Municipality of Meaford, Muxlow Pharmacy, the Rotary Club of Meaford and the TD Bank Group.
Tickets for this production are $25 for Adults, and $10 for Students. Tickets can be purchased by phone: 1-877-538-0463 oronline at www.meafordhall.ca or at the box office at 12 Nelson St. E.