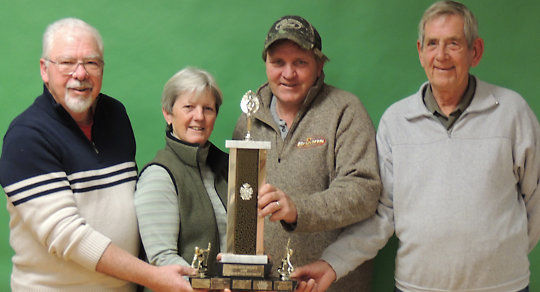 Meaford Curling Club is one of the few clubs in this area which is in good shape. Many clubs have diminishing membership but for the first time, as far as their existing records show, the Meaford club surpassed the the 200-member mark this season and is thriving.
They held their Opening Bonspiel the week of November 16 and, as always, it was hotly contested. However, Bill Inglis and his rink triumphed to be the overall winners with no losses.
They won the Foodland trophy: Bill was skip, Grace Jamieson his vice, Ken Bullock was at 2nd and Bill Bouwman was lead. In second place came the Tim Johns team. Tim's vice was David Blackburn, his 2nd was Trina Inglis, and his lead was Jim Davies.
The Air Star Mechanical trophy was won by Ron Armstrong, Denver Holden, Wendy Johnston and Rae Best. The Kopperud Hamilton trophy was won by Bill Pearson, Carlene Weatherall, Robin Tewkesbury and Dave MacDougall.
The Ferguson Funeral Home trophy was won by Don Grummet, Mort Rapp, Marg Molineux and Marlene O'Connor.