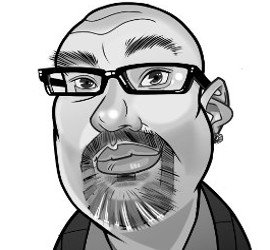 Welcome to 2021 – it doesn't feel any different does it? I suspect that 2021 won't feel any different from 2020 for a while yet.
I hope that all of our readers had as fantastic a holiday season as our current circumstances would allow. With Ontario residents encouraged to only gather with those within their own household for Christmas celebrations before moving to a province-wide shutdown beginning on Boxing Day, this holiday season was one of frustration and confusion for Ontarians.
For many, myself included, the holiday period was a quiet, lonely time. While I don't celebrate Christmas personally, I do enjoy the season, and typically my two (now grown) sons come to Meaford for a visit around the new year, but not this year. In fact, though our birthdays are six months apart, in 2020 I turned 50 while under a provincial lockdown, and now a few days into 2021, my younger son turns 18, also under lockdown. So New Year's Eve was a relatively humdrum affair for myself and many others, connected to the outside world by an internet connection.
After a much needed two-week break, we at The Independent got back to work on Monday preparing the first print paper of the year while in the midst of this latest shutdown, while many businesses have been forced to close their doors, or shift to curbside pickup, and restaurant dining rooms sit empty with restaurant owners crossing their fingers and hoping they will be able to survive on take-out and delivery until the shutdown is over.
Some I have talked to in recent days wonder if this latest shutdown will be the final nail in the coffin of many small businesses, and I have wondered the same myself. Much has been asked of small business owners over the past year, too much many would suggest.
While this current shutdown is expected to last 28 days from the Boxing Day implementation, even if we are given the green light to resume our normal lives later this month (unlikely), I suspect that the worst of the financial impact of this pandemic, particularly on small businesses, will be felt mid-way through 2021. I would like to be more optimistic, but I fear that we are in for a very long winter, and I suspect that in some ways the worst might be yet to come with regard to the impact of this pandemic.
No doubt 2020 will be remembered by many as the year of no fun. No large public gatherings has meant that many of our favourite annual events were cancelled in 2020. It was a year of little to no live music, no live theatre, no blockbuster movies at the cinema. It was also a year of little to no sports. Many had hoped that the Knights of Meaford hockey club would have been back in action by November, but the pandemic has decided otherwise, and we very well could lose what is left of the current hockey season.
I have a hunch that we won't see much in the way of fun as we used to know it until at least mid-way through this new year. I would not be surprised if we are still facing some distancing and face mask orders when Canada Day rolls around – I find it difficult to be more optimistic given what we have all endured in 2020.
As I type these words positive COVID-19 cases continue to spike across the province, even here in Grey-Bruce, where throughout most of this ordeal we have been relatively unscathed by the virus. To make the near future perhaps even more gloomy, an ocean away in the United Kingdom a new shutdown has been ordered, with Prime Minister Boris Johnson telling the media and his nation that, "We now have a new variant of the virus and it's been both frustrating and alarming to see the speed with which the new variant is spreading." Not overly encouraging for those hoping we are nearing the end of this ordeal.
While this has most certainly been the most pessimistic start of the year editorial in our 11 years of bringing news and opinion to Meaford readers, there are always reasons for positivity. If this past year has taught us nothing else, it has taught us that our friends and neighbours in this community will find a way to help those who need help, and to bring smiles to weary faces. We have seen this community pull together and support one another, and if that is the only positive to come out of the past year, it's at the very least comforting to know that we are all in this together.
So, sorry 2021, I want to have high hopes, but the realist in me is looking forward to 2022.