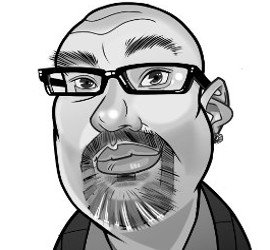 I appreciate history and heritage as much as anyone, but I must admit I have had it with heritage preservation initiatives. Though I would suggest that the heritage preservation movement began with the best of intentions, there are unintended consequences and downright silliness at times when heritage considerations come before local councils.
During Council's meeting on Monday, far too much time was spent by our elected representatives debating the appropriateness of the colours and 'tone' of the font for a business sign in the downtown retail area, which required a heritage permit.
Though the item came to Council with the blessing of Meaford's heritage committee, it was clear that a few members of Council were not pleased.
Apparently a sign with a black background and yellow lettering is not suitable for our historic downtown according to some on council. It seemed to matter not that the colours are those of the business itself, it seemed to not matter to Council that the business owner had proposed having the sign made of wood with the letters embossed.
For nearly half an hour members of Council debated this item which should have been a quick and simple agenda item.
Adding more frustration to the discussion, Council's representative on the heritage committee told Council that the heritage committee also did not feel that the sign was appropriate for our heritage district, however it met all of the criteria and the committee could find no way to object to it. The councillor essentially said 'we would have blocked it if we could'.
After the meeting one of the members of Council who followed up with a message that I had sent to all members of council indicating the silliness of their sign debate disagreed with me. I had pointed to a few other signs in the same heritage district that featured dark backgrounds with yellow lettering and asked why they had never been an issue.
I was advised that one of the signs I had noted "is more pleasing to the eye, the letters blend together, the edges are softer, almost rounded. The angle of the words gives character to the logo. The Value Buds letters are sharp, straight and bold."
Seriously? When did our council become the font police? When did we ask our council to monitor company logos?
As the discussion dragged on, I began to wonder if the problem was not the sign, but the business itself. Value Buds is Meaford's first cannabis shop, a legal, licensed business, and though I have not visited the establishment, I am sure that, like most new businesses, they are doing their best to build a customer base, and grow their business. I find it ironic that 20 feet away from Value Buds, a new pizza joint has opened in the iconic Bluewater building, a true heritage building, and their sign is black with white lettering along with some red as it's their corporate logo. How does that sign fit into our heritage district with no issue, but the Value Buds sign does not? Where do members of Council get off attempting to dictate the appropriate tone of font on a business sign?
For those who might not care because it's just a cannabis shop, your business could be next if we allow our members of council to play fashion police.
Heritage districts generally can cause all sorts of problems, from displacing current residents as property values and rents become so high that the average local simply can no longer afford them, to excessive costs for property owners wanting to make renovations, to holding up developments in order to ensure compliance with heritage district policies, to silly battles over the colours on a business sign.
Gentrification can be ugly, uglier than a black and yellow sign I would suggest.
Our mayor told Council that 'there is nothing I like about it', referring to the sign. So what? Who cares if the mayor likes the aesthetics of a business sign? I don't recall electing councillors to control corporate logos outside of their businesses, heritage district or not.
There are some on Council who simply will not rest until they can turn Meaford into a Niagara on the Lake, or an Elora, yet real issues like the lack of affordable housing has seen our workforce disappear, and employers begging for employees but can't find them, are not addressed. Real issues impacting real people, and real businesses, yet our Council gets bogged down arguing about colours and soft or sharp tones on a business sign.
Yet this municipality refused to follow its own heritage goals when building the new library at the 'gateway' to our historic downtown. The new library is nowhere near a 'heritage look', and if the municipality can build a $7 million facility that essentially thumbs its nose at our heritage policies, why should anyone else be bound to such restrictions?
I would suggest that we need to re-think heritage districts. What are we really trying to preserve? Sure there are some iconic and historic buildings, and it is always nice to preserve them, but let's be honest, the majority of buildings in any small town heritage district have little historical value, and are largely run down old buildings that should be torn down, yet all buildings in a heritage district seem to be treated as valuable treasures that must be preserved at all costs – and boy does it cost. As one article I read recently noted, it can cost up to 50 percent more to do renovations on a home in a heritage district.
Good ideas can often take on a life of their own and snowball into a world of unintended consequences. No business should have to justify their company colours or logos on their business signs, and no business should have to hear members of council discuss how much they dislike their colour and font choices, heritage district or not.