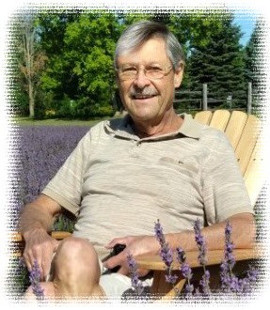 It is with heavy hearts we announce the peaceful passing of Robert George 'Bob' Wilson at home in Meaford with his best friend, soulmate, and wife of 45 years, Mary (nee Runnalls) by his side on Monday, July 31, 2023, at the age of 70.
Bob was born in Collingwood on June 5, 1953, a son of the late Beatrice (nee Jenkins) and George Wilson of Clarksburg, Ontario. He is survived by his sister Lynda (Vic) Howlett of Meaford, and his Aunt Ada (the late Uncle Norm Wilson) of Florida. His memory will be cherished by the Runnalls family: Charlie (Katherine), Maurice (Dolores), and Ed (Dianne), as well as his numerous beloved nieces, nephews, and caring friends.
After graduating from Georgian Bay Secondary School as an Ontario Scholar in 1972, he attended University of Toronto and graduated with a four-year Honours BA, in Sociology. Bob joined the HBC/The Bay where he became a Senior Sales and Merchandise Manager. After ten years at The Bay, Bob left and found his passion at a non-profit/charitable organization, Self-Employment and Development Initiative (SEDI), where the motto was "giving people a hand-up not a hand-out". During his 20 years at SEDI, Bob developed and administered self-employment programs that assisted over 7,000 Social Assistance recipients, Unemployment Insurance recipients, and persons with disabilities to start businesses. Shortly before his retirement in 2008, Bob was most proud of producing an extensive manual for businesses ,detailing a wide range of disabilities and how businesses could increase accessibility and provide better service to the disabled. After retirement, Bob returned to his beloved Grey/Bruce area, settling in the town of Meaford.
Bob was a kind, thoughtful and loving person and will be missed and remembered by the many lives he touched. He was an incredible husband, always doting on Mary, doing the little things to make her smile, even until the end. He had an amazing memory and told entertaining stories, had a great sense of humour, delighted in surprising everyone with "highly useless but moderately interesting" trivia facts and having deep discussions/debates about the state of the world.
Through the years, Bob enjoyed wood finishing, cooking for family and friends, decorating for and celebrating the many holidays during the year, especially Halloween and Christmas. During his high school and university days Bob belonged to a band, Stonehenge, started by Bill Major, Chuck Noble, and Chris Crapper (later joined by Ken Weymouth) that performed at the ski resorts and several bars in Collingwood. After retirement Bob enjoyed the weekends in the summer when family, friends, and/or the band members would get together to play a little rock & roll and catch up on where everyone was.
As per his wishes cremation has taken place. A celebration of Bob's life will be held at the Marsh Street Centre, 187 Marsh Street, Clarksburg, Ontario, on Friday, August 25, 2023, from 1 until 4 p.m., with tributes being shared at 2 o'clock.
In lieu of flowers, the family request donations be made to the Meaford Hospital Foundation, through Ferguson Funeral Home, 48 Boucher St. E., Meaford, ON, N4L 1B9, to whom arrangements have been entrusted.